A short introduction to the Beers Family Tree
Introduction
This survey includes a short history of the Beers family from about 1600 until the beginning of the 1900s or during 3 centuries. The family lived in the Westfrisian region of North Holland. Due to changes in spelling two families lines can be distinguished, Beers and Baars. Baars remained in Westfrisia but about 1800 Ente Beers moved to the polder Beemster.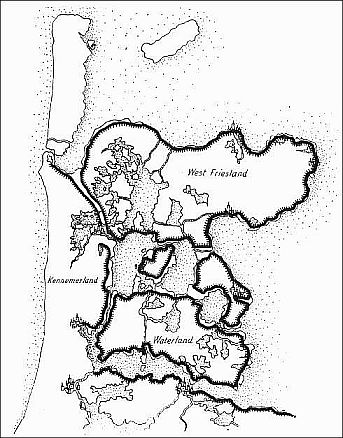 His son Cornelis stayed there but son Pieter went to the newly drained polder Haarlemmermeer. The moving had everything to do with farming and land. From the beginning this family was Roman Catholic. The children were baptized and mostly got a first name in the Latin spelling. So Petrus instead of Pieter that was used in daily life. Also Johannes instead of Jan, Jacobus instead of Jacob, etc. Holland and also the Westfrisian region were mainly protestant with a few spots which had remained faithful to the Pope and Rome.
Westfria refers roughly to the area between the cities Hoorn, Enkhuizen, Medemblik, Schagen and Alkmaar. This area is encircled by the Westfrian dike that is still clearly visible in the landscape. Once Westfrisia was part of the great Friasian Kingdom that stretched around the coast from the Northern part of Germany to Belgium. The connection with Frisia, however, was washed away by the sea before 1000 AD, creating the Zuyderzee and making Westfrisia independent with Medemblik as the capital. Westfrisia was conquered by the duke of Holland Floris V in 1289. He gave the land to farmers and had the area developed for agriculture.
It is common belief that the origin of the family name Beers refers to the fish called "baars" in Dutch or bass in English. The name is not unique, there are more families called Beers with no ties with our family. There are at least two families with a coat of arms showing a fish, one in Amsterdam and the other in the province of Zeeland. There are two villages in the Netherlands with the name Beers but the family name has no reference to them. The family name Van Beers that occurs in the south of the Netherlands, is of geographical origin and may refer to these villages.
Generation 1
The first known ancestor was called Jacob de Baers who was born before 1600 and lived in the village Hoogwoud in the region Westfrisia of North Holland. We know of him because there were 6 of his children living in Hoogwoud who shared the same "parenteel". A parenteel is the middle name derived from the first name of the father and was meant to say "son of" or "daughter of". The sons have as middle name Jacobsz and the daughter Jacobs. The last name was spelled "de Baers" or just "Baers". Later on the spelling changed to Beers or Baars. Jacob's wife and the mother of his children is not known.
Jacob lived in the time of the uprising of the Dutch provinces against Spain. These provinces were part of the Spanish Empire. The Dutch wanted more freedom, especially for their protestant religions. The uprising lead to the so-called 80 years war against Spain. Hoogwoud was at that time a village on the sea and had 1622 inhabitants, being the biggest of the surrounding villages Aartswoud (675 inhabitants) and Opmeer (393 inhabitants). Economic activities comprised agriculture, trade and shipping.
Generation 2
There are no birth records or baptize dates known of the 6 children. The names and some other details were stated in the notary and court records of that time. The baptize records go back only as far as 1640.
Son Pieter Jacobsz lived in Wognum and died after 1623; no marriage or children could be traced.
Son Luitgen Jacobsz lived in Hoogwoud and died after 1641. He married Aechtje Walichs. Luitgen was a kind of merchant. One child was found named Jan Luijtgensz who lived in Opmeer in 1660.
Son Jan Jacobsz married in 1625 Alijt Wouters. The marriage record states that he was born in Hoogwoud. No children could be found.
Son Dirk Jacobs lived in Hoogwoud. He married in 1635 Lijsbeth Arijaens. No children are known.
Daughter Griet Jacobs married twice; first with Cornelis Jansz Dirckx and the second time with Jan Jansz Dirckx. She was an innkeeper in Opmeer and died about 1676. No children could be traced.
Son Cornelis Jacobsz is the most important person for the family line as his marriage is known as well as his children. He married twice; in 1633 Fijtjen Claas and in 1653 Neel Jans who was a widow and an innkeeper in Aartswoud. He died after 1655. He lived in Hoogwoud and Aartswoud. He had 5 children with his first wife and 1 with his second wife.
Jacob's 6 children lived in first half the 17th century with Holland as a rebellious province becoming very prosperous due to its trading activities, the capture of the East Indies, the incorporation of the first multinational called VOC (United East Indian Company) that had a monopoly of trading with de Dutch East Indies which lasted until 1800. The Dutch sailed around the world, discovered Australia and New Zealand. They established a trading post in Japan that got the monopoly of Japanese trade with foreign countries. Similar to the VOC for the trade on Asia, The Dutch incorporated the WIC (West Indian Company) for trade with the Americas. They bought 1609 the island of Manhattan from the American natives and established New Amsterdam as a trading post. They also settled trading posts in West Africa, Brazil and in the Caribbean. In 1648 the 80 years of war against Spain was ended with establishing an independent Republic of the Seven United Provinces that became a world power in the second half of that century.
Generation 3
Cornelis' daughter Aaf died in 1688; her sister Anna married in 1664 Haycke Lambertsz; she was not mentioned in Aaf's testament, so it is assumed that she had already died. Sister Dieuwer died in 1669 and was married twice but no children were traced.
The son Claes Cornelisz married Geert Claes and died before 1667. He had two sons Cornelis Claesz and Claes Claesz who was a sailor.
The family line was continued by Jan Cornelisz who married Ael Cornelis and was the innkeeper of the "Speerruyter" in Opmeer. Three children were found; two sons Cornelis and Jan as well as a daughter Griet. Son Pieter from his second marriage married Alijt Wouters but no children could be traced.
This is the time of the establishment of Cape Town in South Africa by the Dutch; the capture of Ceylon, but also in 1664 the loss of New Amsterdam by Peter Stuyvesant to the English and as a consequence New Amsterdam changed its name into New York.
Generation 4
Griet Jans Beers married twice but no children are known. Her brother Jan Jansz Beers married Neel Jacobs and died in 1698. One daughter was found Sijbrigh Jans who died at a young age.
The family line continued with Cornelis Jansz Beers who married Lijsbeth Pieters and died on June 16, 1801 in Spanbroek. He was a sailor, skipper of merchant vessels and commander of a whaling-vessel. He sailed to Portugal, the Sont and the Baltic countries but also to the North for whalehunting. He sold his father's inn and bought a homestead. He had four children, three sons and one daughter.
This is the time of William, the protestant Dutch governor who married his cousin Maria Stuart, daughter of the the Ďdisastrousí catholic King James II. William started the glorious revolution, defeated his father-in-law and became King of England. Unfortunately, King Billy, as he was called in Scotland and Ireland, did not have any children. Therefore, the British crown did not remain on a Dutch head after Williamís accidental death in 1702. Consequently, Great Britain went on to become the most powerful nation on earth, while the Dutch Republic went into decline. In Great Britain, William III is not remembered as a very popular monarch, although the protestants in Northern Ireland still see him as one of their greatest heroes. Nevertheless, there can be no doubt about his historical importance. William III checked French King Louis XIVís ambitions to dominate Europe, and his victories laid the foundation of Great Britainís world domination in the 18th and 19th century.
Generation 5
The family line continues with Jan Cornelis Beers. He married Griet Jans in Spanbroek in 1710. He was a merchant and died in 1736. He was a rather wealthy man, owning in 1720 three houses, some land, 6 cows and four beds. He also had 9 children of which 7 died at a young age. Two sons reached maturity and got married.
His brother Pieter Cornelisz married in Spanbroek in 1713 Mary Claes Borsten from Wadway. No birth or death dates are known. He was a skipper but met some financial difficulties and in 1717 he had to sell his boat to his brother Jan Cornelis. In 1718 he was employed as a seaman by the VOC and sailed to the Dutch East Indies. He had 5 children, three sons and two daughters of whom the birth dates are known. Also two grand children are known but then this family line ends.
In this time economic prosperity in the Republic was slowing down. Holland was not a world power anymore. Spain, France and England became more powerful. In Holland the gap between the civilian population and its rulers was growing bigger. The Republic was not very democratic but rather ruled by an oligarchy of regents.
Generation 6
The family line continues with Jan Jansz Beers, born in 1715 in Spanbroek, son of Jan Cornelisz and Griet Jans. He was a farmer and the probably first of this profession in this family line but quite a few descendants would follow. Farming in Westfrisia mainly meant raising of cattle. He married in 1737 in Hoogkarspel Grietje Cornelis Abbekerk. Jan Jansz died in 1761, 45 years old. His name was found many times in the notary records with reference to buying or selling property, mortgage property and acting as a guardian to orphans. His wife Grietje died shortly after him in 1762. They had 12 children of which only 6 were in live when their parents died.
His older brother Cornelis Jansz born in 1712 in Spanbroek married in 1741 in this village Lijntje Cornelis de Groot from Opmeer. Cornelis died in 1741 in Spanbroek only 36 years old. His wife died at an age of 71 in 1777. They had 3 children. Two of them, Jan Cornelisz Beers and his younger brother Cornelis Cornelisz Beers, changed their family name to Baars and their descendants maintained this spelling. Of Jan Cornelisz who was a baker, three generations Baars descendants are known who all stayed in Westfrisia. However, the line starting from Cornelis Cornelisz, who was a cattle merchant and married twice, having 13 children, is much longer; he can be considered the patriarch of the Baars family with quite a lot still living descendants, some in Westfrisia, but as usual nowadays with families, many living throughout the Netherlands.
Generation 7
The family line continues with Cornelis Jansz, the fourth child of Jan Jansz and Grietje Cornelis Abbekerk. He was born in 1744 in Hoogkarspel. He married in 1773 in that village Stijntje Entes from Zwaagdijk and got 8 children, of which 5 died very young. He was also a stock farmer. He had 11 brothers and sisters but 8 died very young. Only 3 reached a marriageable age. His sister Grietje married Pieter Berkhout and died in 1833 in Hoogkarspel. His brother Sijmen married Antje Sijmons and died in 1805 in Obdam; his children adopted the family name Baars. His brother Pieter married Lijsabeth Stam and died in 1826 in Obdam; he had 4 daughters and one son who died young.
This is the uproarious time of the French Revolution, the end of the Republic of the Seven United Provinces, of the VOC and the WIC, the occupation by French troops in 1794, the short lived Batavian Republic until 1806 followed by the first Kingdom of the Netherlands under Napoleon's brother and in 1810 becoming part of the French Empire.
Generation 8
Next in line is Ente born in 1782 in Hoogkarspel, son of Cornelis and Stijntje; he was named after his mother's father. He married in Hoogkarspel in 1812 Grietje Buyten from the Purmer, daughter of Pieter Buyten and Geertje de Wit. He got 5 children, two of them were born in Sijbekarspel, which is a village in Westfrisia, but then in about 1816 he left Westfrisia and moved to the polder Beemster where three children were born. Both Ente and his wife died young in 1823. Three of the children also died very young. Two sons i.e. Cornelis born in 1817 and Pieter born in 1815 were raised by grandfather Pieter Buyten until he died in 1833 at the age of 78. Pieter Buyten was a wealthy farmer born in Hoogwoud and had moved to the Beemster. He also had convinced his son-in-law to move to this polder too. Ente had a farm built at the Jisperweg in the Beemster. The farm still exists but that is not the original building. In honor of Ente the farm was later on referred to as the Erven Ente (Ente Heirs).
Ente's brother Jan was appointed guardian to the two boys Cornelis and Pieter. Jan stayed all his life in Hoogkarspel where he had married Jantje Vlaar in 1802 and where he died in 1852 at the age of 78. Jan was also a cattle farmer and had 7 children but 4 died young and only two married, one son and one daughter. Jan's line ends with his son who married in 1841 but had only two daughters.
The polder Beemster is a drained lake which as so many lakes was reclaimed by the Dutch in the 16th century. The purpose was to get fertile soil for agriculture. The Beemster was drained in 1612 by 47 windmills developed by Jan Adriaansz Leeghwater. Other lakes that were reclaimed are Wormer in 1626, Purmer in 1622, Schermer in 1635, Heerhugowaard and in 1852 the Haarlemmermeer.
Generation 9
This generation of the Beers family line consists of Ente's sons Pieter born in Westfrisia and Cornelis born in the Beemster. Pieter went back to Westfrisia en married in Hoogkarspel Marijtje Vlaar. 5 children were born in Hoogkarspel but in 1845 Pieter moved to Monnickendam where 4 children were born and where his wife died in 1851, only 35 years old. Of the 9 children, 6 had already died by that time. Pieter then moved with the 3 children to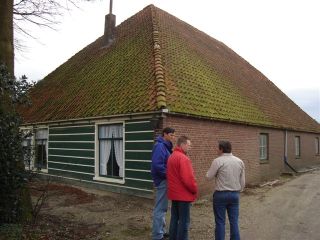 the newly drained polder Haarlemmermeer, where he had a farm built at the IJweg that still exists and where his great-great-grandson Wim Beers is living and farming. In 1860 Pieter Beers married Elisabeth Stokman, 22 years old and born in Zuid Schalkwijk that is now part of the town Haarlem. In the Haarlemmermeer 5 children were born and in 1866 Pieter Beers died, 50 years old. Elizabeth was left behind with 8 children, the youngest being 1 year old. She remarried the same year Dirk Kieft from Spanbroek in Westfrisia and with him she got 8 children. They stayed in the Haarlemmermeer. Elizabeth died in 1904, 66 years old.
Cornelis Beers married in 1842 Trijntje Kat from the neighboring polder Wijdewormer. The marriage record states that his brother Pieter Beers was a witness and living in the Beemster at that time. Cornelis and Trijntje got 11 children but several died young and only one son Johannes or Jan Beers married. In 1839 Cornelis inherited his father's farm Erven Ente on the Jisperweg in Beemster. He did very well. He reconstructed the farm in 1851 and bought in 1895 another farm called Loeffendijk in the northern part of the Beemster. He died in 1897, 80 years old.
When Cornelis died Holland was hit by the big agricultural crisis that had started around 1880 with results felt thoughout Western Europe. The crisis was caused by the rise of the United States as the world's biggest exporter of grain. When also Russia started to sell large volumes of grain on the world market, prices dropped and what had started in agriculture also happened with livestock. Prices of butter, cheese, cattle and land dropped quickly and stayed low far beyond the beginning of the new century. The rural community impoverished.
Generation 10
This generation consists of the children of Pieter and of Cornelis, both farmers. Pieter had 14 children but when he died in 1866 at the age of 50 years there were only 7 children alive, 6 sons and 1 daughter. The sons Ente, Cornelis and Jacob from his first marriage and Johannes, Adrian and daughter Marijtje from his second marrige. His oldest son Ente Beers married Johanna Kerkvliet and started a farm in the Haarlemmermeer where he died in 1913, leaving two daughters. Son Cornelis Beers was also a farmer in the Haarlemmermeer. He married Antje Tol and got 12 children, of which 7 died young. The other 5 children married and stayed in the Haarlemmermeer. Jacob Beers married Margaretha Kerkvliet, a sister of Cornelis' wife. He had several occupations. He was a farmer, a merchant a shopkeeper and even had a victualler's shop but went bankrupt in 1889 and in 1900 he followed the family Kerkvliet, his late first wife's family and emigrated with his second wife to the States as did his two sons Peter and Adrian as well as two daughters Maria and Johanna. Jacob went to Alvord, Iowa first because there lived the Kerkvliets. His daughter Johanna married in 1904 Bernard Kerkvliet, son of Gerard Kerkvliet, Jacob's brother-in-law, who had left Holland in 1892 to settle with wife Cornelia van Egmond and their 15 children in the States. Jacob's son Pieter had already followed the Kerkvliets in 1897 to start a farm near Mitchell, South Dakota. Jacob's son Adrian married in 1908 Maria Haasevoet from Amsterdam who went to the States in 1907; they moved around 1924 from Alvord, Iowa to Minnesota. In 1910 Jacob lived with his son Adrian and he died in 1920 in Montana, 71 years old.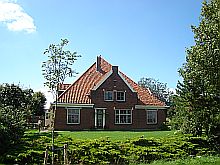 Jacob's halfbrother Johannes or Jan Beers went to Amsterdam and married Margaretha Huiberts from Wognum (Westfrisia). He was a milkman and a cafe-proprietor. Brother Adrian Beers stayed in the Haarlemmermeer and married Catharina Brouwer from nearby Heemstede. He got 4 children, a son went into a monastery and a daughter into a nunnery. Eduard Beers also stayed in the Haarlemmermeer and married Maria van Leeuwen from Haarlem. He was a shopkeeper and a coffee shop owner and had 4 children but only one married and moved to the southern part of the Netherlands. Marijtje Beers married Stephanus Granneman, a farmer from the Haarlemmermeer.
Cornelis Beers had 11 children, 6 of them died young and only one got married and was able to maintain this family line. His son Pieter inherited the family farm De Erven Ente at the Jisperweg in the Beemster. Son Johannes Beers was the ninth child. He married in 1879 Veronica de Haan from Hoogkarspel (Westfrisia). He lived a few years in Westzaan where two children were born and moved in 1886 to the farm Loeffendijk in North Beemster which his father had bought and where 4 children were born. When his father died Johannes did not inherit the farm where he had been working but money instead which he used to buy a homestead at the Volgerweg in the Beemster. His brother Pieter did not marry and left the farm "De Erven Ente" after his death in 1930 to his cousin Pieter Beers, son of his brother Johannes. There is still a Pieter Beers living in this farm nowadays.
Generation 11
Pieter Beers got 31 grand children comprising 17 grandsons and 14 granddaughters. At least 8 grandsons got married, of which 2, Peter and Adrian, had emigrated to the USA, married there and got children. Not all the details of the US descendants are yet known, so it is not possible to say how many descendants of Pieter comprise this generation. Grandson Peter married in 1907 in Rock Valley, Iowa, with Ida Pearl Kaskie and had 4 sons and 1 daughter from this marriage. According to an article in the Rock Valley Bee of April 19, 1907 the wedding was was solemnized at St. Mary's Catholic church. Miss Addie Kaskie, sister of the bride was bridesmaid while the brother of the groom was groomsman. His brother Adrian married in 1908 and 10 miles from Rock Valley in Alvord, Rock Rapids in Iowa with Maria Haasevoet, also known as Maria Braskamp from Amsterdam, Holland; they had 8 children. In 2007 there was a reunion in North Carolina and at least 34 members of the Adrian Beers family were attending.
The 6 Dutch grandsons got 31 children. Most of them were born in the Haarlemmermeer or in the vicinity. There is still a descendant of Pieter living in the old farmhouse at the IJweg of Hoofddorp in the Haarlemmermeer where potatoes, onions, sugar-beet and flowers are grown.
Johannes, the only married son of Cornelis, got 6 children, 5 sons and 1 daughter. One son died young and 3 married. Nicolaas married in 1906 Cornelia Stuyt from Uitgeest and moved into the farm Loeffendijk in North Beemster where 10 children were born. He left the farm in 1928 and started a drapery-shop in the nearby village De Rijp which he sold in 1946. He died in 1956 in Oostzaan. His brother Cornelis Johannes married in 1930 Catharina Pooijer from Volendam. He was a cattle farmer and a licensed victualler. He married in Purmerend and lived in Amsterdam where 4 children were born. He died in 1983 in Volendam. Their brother Pieter married in 1927 Maria Felisiak from Germany. He inherited the farm De Erven Ente in 1930 from his uncle Pieter and stayed in the Beemster where 12 children were born. He sold the farm in 1974 to two of his sons. He died in 1977 in the Beemster.